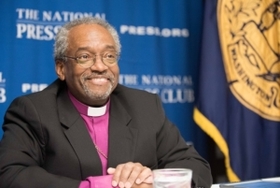 Episcopal presiding bishop notes Anglican suspension, underlines evangelism and racial reconciliation
Differences in "core doctrine" are at the heart of the three-year suspension of the 1.8-million-member U.S. Episcopal Church, due to its continued support of same-sex marriage, by the 85-million-member world wide Anglican Communion, Michael Curry, presiding bishop of the Episcopal Church, told a National Press Club Newsmaker audience Feb. 8.
The suspension, which came last month in meetings in Canterbury, England, ensures that Episcopalians "can't cast votes on matters of polity and restricts ambassadorial duties such as representing the Anglican Communion on ecumenical and interfaith bodies," Bishop Curry said. "The vote expressed displeasure in the Episcopal Church and did so in a way that was real but didn't go too far."
"My sense is that the overwhelming majority of the primates voted that they disagreed with me because of core doctrine but didn't do so to vote [the Episcopal Church] off the island," Bishop Curry said. "How this will play out in the coming months is uncertain. But one thing we have clarity on is commitment to our mission, which is to spread the message of Jesus Christ."
Bishop Curry said this commitment is what drives him. "The primates understood clearly that we are committed to the Anglican Church and it being a place for all people," said Bishop Curry. "We are all children of God, created in God's likeness. And we also love those who disagree with us."
According to Bishop Curry, if God is the parent of us then that means we are intrinsically related and we are all family. "Like many families, we are dysfunctional. But evangelism is bringing us back together."
During the nomination process leading to his election as presiding bishop in 2015 Curry had written an essay stating that he didn't see his role as a CEO of the Episcopal Church but rather its chief evangelical officer – grateful for the opportunity to serve.
According to Bishop Curry, after his election the Episcopal Church not only went on record to support evangelism, but placed significant resources behind evangelism activities – before his election one could hardly place evangelical and episcopal together in the same sentence, he said good humoredly.
Bishop Curry said the work of evangelism is increasingly important as more people, especially young people, become less involved in organized religion, skeptical of its significance and well aware of the consequences of extremist ideologies around the world.
He said the Episcopal Church is learning new ways to meet and relate to the millennial generation and younger by going to them instead of waiting for them to come to church.
Additionally, the Episcopal Church recommitted to racial reconciliation, which became important in the church in the 1960s. Along with evangelism, "These were two courageous acts," he said.
Bishop Curry said the Episcopal Church is committed to fostering racial reconciliation and has committed presiding bishops and deputies to planning an "intentional and thoughtful" strategy versus a knee-jerk reactive approach. He is conferring with the bishops in March on this nationwide initiative.
"We have to build a church that reflects all people, regardless of age, race, and including Republicans and Democrats," he declared.
He said the Episcopal Church is also committed to protecting young people and fully investigating allegations of sexual abuse and harassment.
"This has been the practice since the '90's and we are continuously undergoing more training on how to handle investigations in a transparent way, seeking justice and reconciliation for all the parties involved," Bishop Curry said. "Each diocese will be following the protocol in place. Canon law requires each case is reported and immediately adjudicated."
Noting that Valentine's Day was around the corner, Bishop Curry said "It's easy to schmooze love into sentimentality but Jesus said the greatest commandment is to love God entirely and to love your neighbor as yourself. "On these two hang all the law," he said.
He also cautioned against extremism in any religion, including Christianity, and against self-centeredness and selfishness, calling both a cancer that will destroy the earth.
"When we love completely there's no room for unenlightened self-interest," Bishop Curry said. "Jesus said whosoever would save his life would lose it but whosoever would lose it in service would find it."
"Jesus is not the problem; we are," he said. "Let's focus on work that makes a better society not for what we hope to get out of it but because that's what Jesus would do."
Prior to becoming presiding bishop of the Episcopal Church, Curry was bishop of the Diocese of North Carolina where he served for 15 years.